Board Member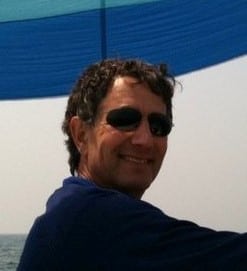 Roy Greenwald is a PhD mechanical engineer with degrees from both MIT and the University of California at Berkeley. He presently serves as both the president and CEO of DENS Partners, Inc, and as the CEO of DENS Facility Services, Inc, a DENS Partners subsidiary that specializes in facility management of life science companies. DENS Partners is an equity investment firm specializing in leading edge construction and service industries. During Dr. Greenwald's time managing the activities at DENS the business has founded, purchased, and grown several independent operating companies, employing hundreds of individuals and executing several hundred millions of dollars of work.
Roy Greenwald is also a life-long sailor who grew up plying the waters of Narragansett Bay in Rhode Island. Sailing and racing primarily with his wife, Gail, they have sailed their Valiant 42, Cordelia, over 50,000 miles. They have crossed both the Atlantic and the Pacific oceans, and have completed three Bermuda 1-2 races, four Marion-Bermuda races and one Newport-Bermuda race. Their accomplishments include many first in class and high fleet finishes (most recently finishing first overall in the 2019 Marion-Bermuda Race), and their experience includes flat calms mid-ocean, an on-board fire during an Atlantic crossing, and multi-day battles with storm conditions at sea. Roy has published several articles in Blue Water Sailing magazine and is a past commodore of the Blue Water Sailing Club. He is presently a committee member with the Bermuda 1-2 race organization.
As a volunteer Dr. Greenwald serves on the Board of Amahoro Health, an organization dedicated to strengthening health care options in Burundi. He also spent several years as a volunteer for Build Health International (BHI), a non-profit organization whose mission states that BHI designs, builds, and equips high-quality, sustainable health-care facilities in impoverished regions of the world. He worked directly with the organization's CEO in the development and execution of their strategic objectives and projects.
Prior to 1981 Dr. Greenwald served as an Executive Vice President at Hart Corporation, a specialty designer and builder of process, chemical and pharmaceutical facilities. Before joining Hart Corporation, Dr. Greenwald was associated with the Lawrence Berkeley Laboratory (LBL) and Bechtel Incorporated in California. Dr. Greenwald has authored several publications in the field of biotechnology and is a past chairman of the Industrial Operations Committee for ASME. In that role he was responsible for the review, production and editing of technical papers and presentations, as well as organizing national conferences.