Board Member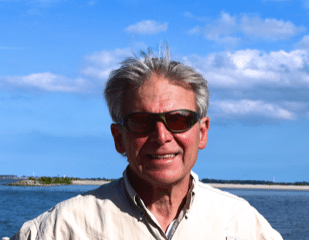 Steve grew up in Boston with views directly behind the house of tidal Dorchester Bay and the peninsula where now sit UMass Boston and the Kennedy Library. The pull of the water has always been there, though the only sailing craft he had growing up was a standard fiberglass rowboat into which his father glassed a mast step, centerboard well and fixtures to hold a rudder. It couldn't point but it carried him along.
Education was at local institutions, a BSME from Tufts University in 1967 after which Ricci worked in industry first with Dupont in West Virginia and later with Cambridge Tool and Manufacturing in Massachusetts. After an MBA from Harvard University, Ricci entered the then embryonic venture capital world where he spent the next 40 years of his career, all in early stage technology ventures, mostly in software and communications. Ricci is currently a director of Brainshark Inc. and on the Advisory Boards of the Tufts School of Engineering and the Boston Lyric Opera.
Ricci and his wife bought their first boat during the Blizzard of 1978, a 5 year old Tartan 34. After five seasons they stepped up to a Bristol 38.8 which they owned until 2012, when they purchased a Hallberg-Rassy 43. They took delivery in Sweden and over four summers, sailed in Scandinavia down to Holland and back to the Baltic. While they have competed in two Marion Bermuda Races and Steve regularly crews on another boat for round the buoy racing, coastal cruising to visit new locales is their favorite pastime. Steve and his wife have charted bare boats in Turkey, Croatia, Greece, Spain (Majorca), France and Belize. When in New England waters they range from Cape Cod to southern Canada.
Steve is glad to be able to play some small part in Phil Haydon's effort to raise awareness of epilepsy and to increased funding toward its cure.