President, Chairman of the Board
Phil Haydon is the Annetta and Gustav Grisard Professor and Chair of the Department of Neuroscience at Tufts University School of Medicine. During the next 3 preparatory years Phil will be sailing in the Massachusetts Bay area, raising funds for the Sail For Epilepsy project, and commencing epilepsy outreach to inspire others with epilepsy to overcome their challenges.
Read Phil's bio »
---
Board Member
Roy Greenwald is a life-long sailor who grew up plying the waters of Narragansett Bay in Rhode Island. Sailing and racing primarily with his wife, Gail, they have sailed their Valiant 42, Cordelia, over 50,000 miles. Roy has published several articles in Blue Water Sailing magazine and is a past commodore of the Blue Water Sailing Club. He is presently a committee member with the Bermuda 1-2 race organization.
Read Roy's bio »
---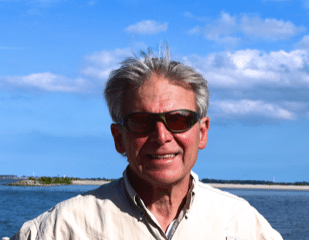 Board Member
Steve Ricci and his wife have competed in two Marion Bermuda Races and while Steve regularly crews on another boat for round the buoy racing, coastal cruising to visit new locales is their favorite pastime. Steve and his wife have charted bare boats in Turkey, Croatia, Greece, Spain (Majorca), France and Belize. When in New England waters they range from Cape Cod to southern Canada.
Read Steve's bio »
---
Director of Community Engagement
Lauren Darby Zike grew up boating the waters of Penobscot Bay, in midcoast Maine. She has sailed from Mexico to Hawai'i via the equator, from Boston to Key West, and throughout the Lesser Antilles aboard tall ships. Lauren brings web development, marketing, and social media experience to the Sail For Epilepsy team and will be providing shore-side project support during voyages.
Read Lauren's bio »
Special Projects Coordinator
A love of the ocean led Kimberly Gniadek to enroll in a semester-long study abroad program during college and discover that the middle of the ocean, out of sight of land for weeks upon end, is one of her favorite places. At Sail For Epilepsy Kimberly assists in special projects including coordination of public events during port stops as well as shore-based support while other members of the Sail For Epilepsy team are at sea.
Read Kimberly's bio »
---
Sailing Advisor
Phil and Joe Cooper first met in 2016 as Phil was preparing to sail in the Bermuda 1-2 race. Since then they have worked closely together: Coop has been helping Phil in boat modifications to enhance his current race boat for offshore sailing. Coop brings a breadth of extensive experience to the Sail For Epilepsy program that will be invaluable in boat and crew preparations, as well as in support during the voyage.
Read Coop's bio »
---
Advisory Board
Formed in 2021, the broader advisory board will regularly bring fresh insight into Sail For Epilepsy's activities and assist us to further our mission and goals. The advisory board will meet virtually four times per year to:
Provide advice and input on key strategic questions confronting the organization;
Give input on impacts to Sail For Epilepsy's public image, its liability exposure or risks to its mission that may result from planned or pending initiatives;
Input on organizational, structural or operational performance that might leverage future objectives; or
Other observations and suggestions that may benefit Sail for Epilepsy.
---
Ambassadors
Sail For Epilepsy Ambassadors provide an additional level of support, made up of volunteers, that support the mission and advancement of the project. A few of the ways that they contribute to the success of Sail For Epilepsy are:
Spread the word about Sail For Epilepsy within their own networks (family, friends, colleagues)
Follow the Sail For Epilepsy social media channels and re-share posts
Volunteer at events hosted by Sail For Epilepsy
Help with special projects that match a particular skill
If you'd like to learn more about becoming a Sail For Epilepsy Ambassador, please send an email to [email protected].
Our gratitude to our current ambassadors:
Cassandra Lund
Trudy Robinson
Diane Tarricone